With the latest technology and designs, we are able to improve our standard of living. Even the designs regarding common items that we use on daily basis has taken a new dimension. The new toaster concepts coming in market are more improved versions that have changed the usability and designs of the older toaster.
Message Toaster
Sasha Tseng has designed a stylish toaster that has a message board on the top of it. You can write your quick notes on the board and the toaster will absorb your message, and imprint the note on the bread. You can write good morning messages or if your partner is angry with you can make him/her a delicious toast with a cute message.
Roller Toaster
This toaster does not look like a traditional toaster but works as one of it. The winner of 2006 Red Dot Award is designed by Jaren Goh of Singapore is compact little unit. You just have to put bread in one side and see how amazingly your bread rolls into a toast.
Transparent Glass Toaster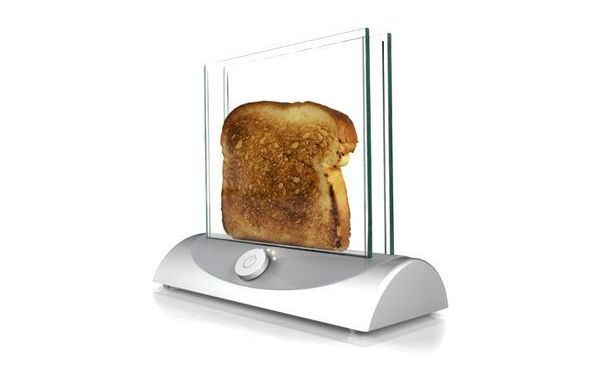 This toaster will change the way you look at toasters. You just have to slide bread inside the glass and watch your bread heat up to a tasty golden brown toast. The transparent glass toaster starts when you turn it on, no longer you need to adjust timer and heat settings.
Portable Toaster
It looks very ordinary just like a butter knife you use it on daily basis. Designer Been Kim came up with this innovative style of toasting bread. Portable toaster has some creative graphic designs with LCD on its back that gives you the idea how well your bread is toasted. The size is its advantage you can carry it wherever you want to.
Six-Part Toaster
This is one of its kinds, colorful and innovative designer Matt Gossington has invented this six-part toaster. You can place your breads inside these six compartments and watch it swing while your breads are turning into yummylicious golden toast. The pretty looking toaster can also be used as centerpiece on your dining table.
These advanced looking toasters add taste and style in your life. You cannot take your eyes off from the amazing looking device that gives you the coolest sandwiches ever. No one ever thought that toasters could do more than toasting breads. So let's make a toast for these awesome toaster.