Chess is often considered to be one of the most intelligent, intense and probably tiring games around. While the standard chess sets featured a plain, boring wooden board and pieces, the more modernistic versions seem to attract the gamer more with their unique designs. Featured here are 5 such unusual wooden chess set designs that would surely lure you to start playing the game.
Wobble Chess Set
Designed by AdinMumma, this incredibly creative wooden chess set brings some much needed liveliness to the otherwise intense game, with the help of wobbling figures. The concave shaped landscape helps prevent these wiggly and wobbly pieces from trembling off the board as they move around it with great gusto! This is definitely one chess board that would have the spectators hooked to the game as well.
Floating Branch Chessboard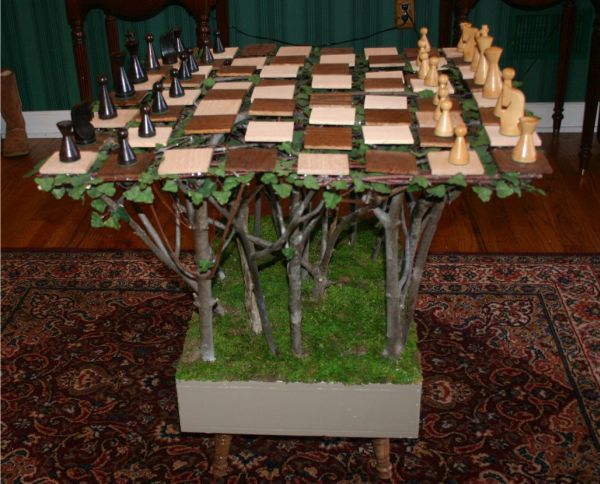 Here's another unique chessboard that is simple and very easy to recreate in your own home. The floating branch chessboard starts with a wooden box at the base. Stick some vertical stems on both sides of the box to ensure that they reach the same height. Stick a handful of plastic leaves at the top of the stems to create a canopy of sorts. Your floating branch chessboard is now ready.
Mouse Taxidermy Chess Set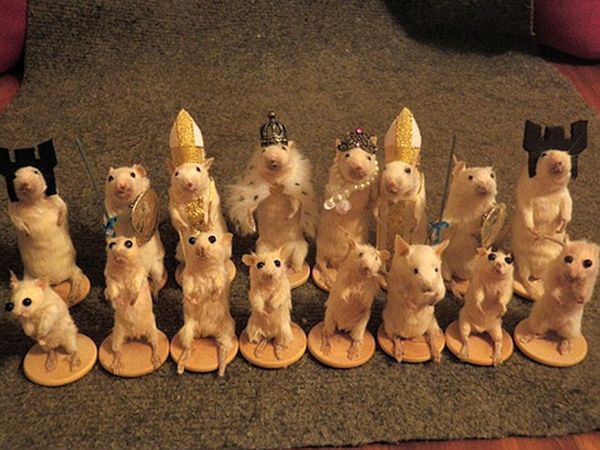 You may want to stay away from this one if you detest critters, especially mice. The taxidermy mice chess set features (you guessed it..) taxidermied mice along with plenty of other materials like cotton, foam, fur, beads, wire, wood, fabric, paper, paint and glue. The mice are dressed in appropriate attires (as per the position and rank on the board). So all you would need to do is roll the dice and simply move these mice.
3D Chessboard
How about playing chess in a 3D board that allows you experience a more lifelike view of the entire game? The 3D chess board comes with the same wooden chess board and pieces, but has an interesting twist in its design. The 3D chess board features a checkered, raised terrain that places different pieces in different heights based on their position. In addition to enjoying a game or two on this unique chess board, you would actually appreciate the climb to victory.
Rolling Stone Chess Set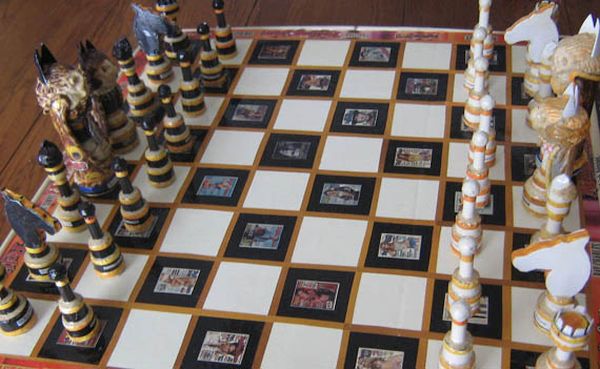 If you are a fan of the Rolling Stone, then you would probably relate to whose ever idea it was to create this rolling stone chess set. Everything from the playing surfaces to the pieces themselves has been handmade from Rolling Stone magazine. The chess set comes with a glossy finish to protect the magazine covers.
Why play chess in the same old wooden chess set when you can opt for something more creative and out of this world? These wooden chess sets have surely added a new twist to an otherwise intense game, making it all the livelier for the players as well as those watching them.