There are many instances when you probably needed a small strip of tape but could not figure out from where to start picking. This happens to all of us. To make it easier for people to use tapes and finish their work faster some designers have invented interesting tape dispenser concepts. In the following, you will find a list of some of the most amazing tape dispenser concepts.
Tapeworm
Designed by Paul Sandip, the Tapeworm tape dispenser concept is simply brilliant. The structure of this tape dispenser and the mechanism it uses not only help the users, but also brings down the production cost. The 1.0X5.4 inch Tapeworm has a shearing edge that helps in cutting the tape according to requirement of the users. It has been made with stainless steel coated with rubber. Due to the high yield strength of this material the tape dispenser always shifts to its flat shape even after staying bent for long time.
Tape Dispenser Concepts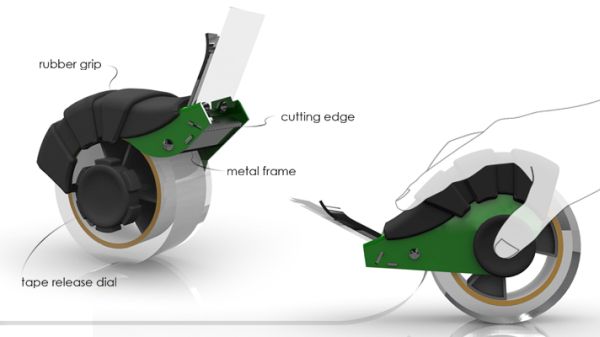 An employee of Noble Marketing Inc has created another interesting and user-friendly Tape Dispenser Concept. It has a metal frame which makes it sturdier than most contemporary tape dispensers. The cutting edge helps in cutting tapes at the exact length you want. The Tape Dispenser Concept also has a rubber grip that makes it easier for users to hold it. The maker took help of CAD renderings for improving the design and made prototypes by using 3D technology.
Notchless Tape Dispenser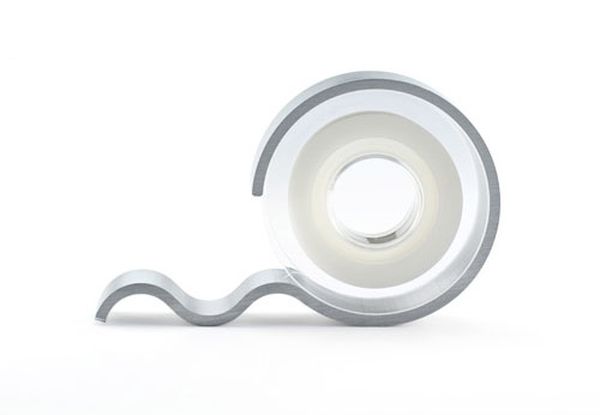 The sleek and stylish Notchless Tape Dispenser has been designed by Mamoru Yasukuni. The curvy and curled appearance of the Notchless Tape Dispenser makes it look like a décor accessory for your office work desk. Contemporary tape dispensers leave a zigzag design at the end of tapes after cutting. This tape dispenser offers tapes cut in straight lines. Simplicity of design makes it a stand out concept.
Scotch Tape Dispenser
Joongho Choi has created the concept of the Scotch Tape Dispenser. In many professions, people require tapes cut in proper sizes. The Scotch Tape Dispenser has been designed to offer better safety to workers while cutting tapes in a hurry. The tape is cut by the sharp edge and users can easily remove it from there.

A variety of funny, quirky and useful tape dispenser concepts are doing the rounds at present. They can ensure better safety at work places and help employees in finishing tedious tasks faster.