When it comes to sockets and power strips, only white and boring power sockets come to our mind. However, there is no need to visualize and satisfy your needs with those boring and monotonous socket designs, as industrial designers have put their creativity to make the traditional sockets look cool and creative. If you want to select some creative socket and power strips design for your home, check out the following creative socket design that will add a unique touch of elegance and beauty to your rooms.
Electrici-Tree
This is a beautiful creation by designer Vahakn, daisy-chainable rubber extension lead with three branches. Each socket has a magnet at the back, which enables Electrici-Tree to stick on metal furnishings like table legs, or radiators. Electrici-Tree is a hub of sockets that can be chained up and hung on a wall to provide multiple charging stations.
Power Strip Swintus
Cute looking power strip swintus is a functional device with block of seventeen pig snout-plugs. It ensures protection as its built-in circuit breaker protects from overloading and allows you to choose your way to plug in your device. You do not need to hide it behind a drawer or a cushion as its pink color and seventeen snout plugs gives an impressive and cute visual look to the people.
Rotating 360°
As its name specifies, it is a rotating socket and its each socket forms an angle of 360°. It is highly space efficient and you can plug number of different sockets of different size and shape. It is an amazing creation of Cheng-Hsiu Du and Chyun-chau Lin. It has an excellent feature of increasing and decreasing number of multiple sockets according to the user's needs.
Rambler socket
This is one convenient and mess free socket, unlike other wire extensions that take more space and are tough to handle. Designer Meysam Movahedi has come up with this super clean design that nobody could help to fall in love with. An extension cord that remains within the socket when not in use and you can pull it out whenever you want.
The Ramo Branch Multi Tap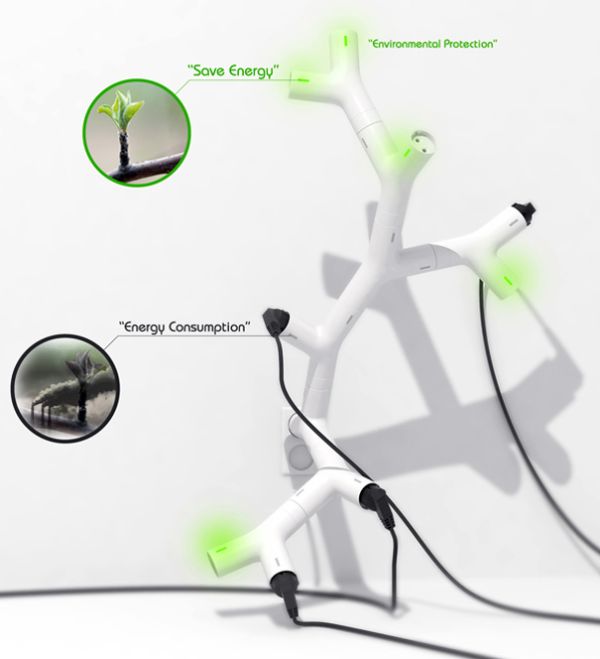 The Ramo Branch Multi Tap is a power is a socket design designed by Eunsung Kwon. It resembles tree, an artistic tree that gives life to our gadgets. You can grow number of braches by simply fitting modular sockets.
Summary:
Creativity has no limits, and it can be seen in almost any field. Owing to the creative thinking of some designers, the boring sockets and power strips has taken an all-new and advanced look.