True that having outdoor furniture is not a common thing in most metropolitan cities, but not everyone is deprived of this luxury. If you have a home with a lawn and are looking to invest in good outdoor furniture, there are certain things to keep in mind. The quality of the material, its mobility and comfort, and the price at which it comes are all important aspects of choosing patio furniture that just can't be overlooked.
Given below are a few points that you can jot down as a checklist for making sure that you land the perfect outdoor furniture in the best budget for your needs.
Pay attention to the material: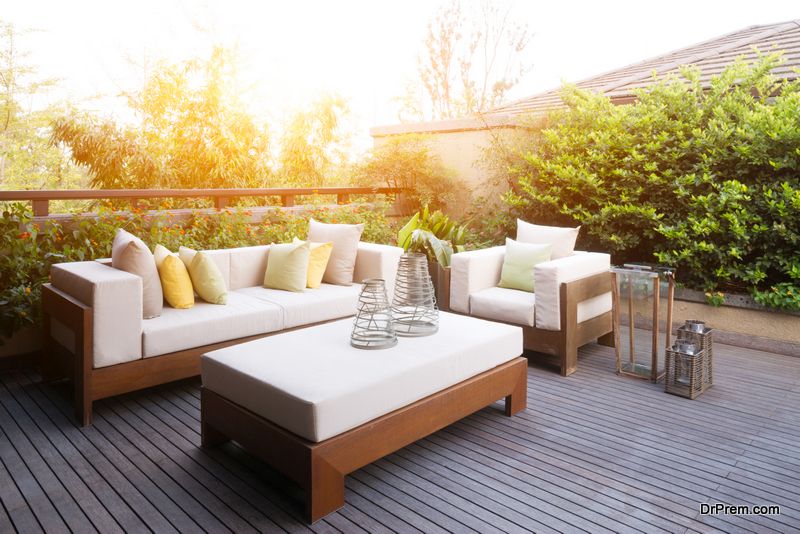 Try and use materials like steel and aluminum for your tables and chairs. If you are intending on keeping cushions for your couches, use foam. Foam is soft and fluffy, and makes great chubby cushions. It is lightweight and quite comfortable too.
All in all, use materials that can withstand harsh weather like rainy and windy conditions. Prefer to buy furniture that is good looking, and has great strength and mobility too.
Get a shade:
While choosing patio furniture, always remember that your furniture is going to be placed out there in the open. On days when the weather is soft, you will enjoy your time out there. But sunny days do call for some sort of shade to keep the sun from getting all over in your face.
If your lawn has a shade of its own, then fine. But if not, then look for furniture with umbrellas or canopies on top. Dining tables, chairs, and couches do come with an umbrella to shield you from the sun.
Pick according to your comfort: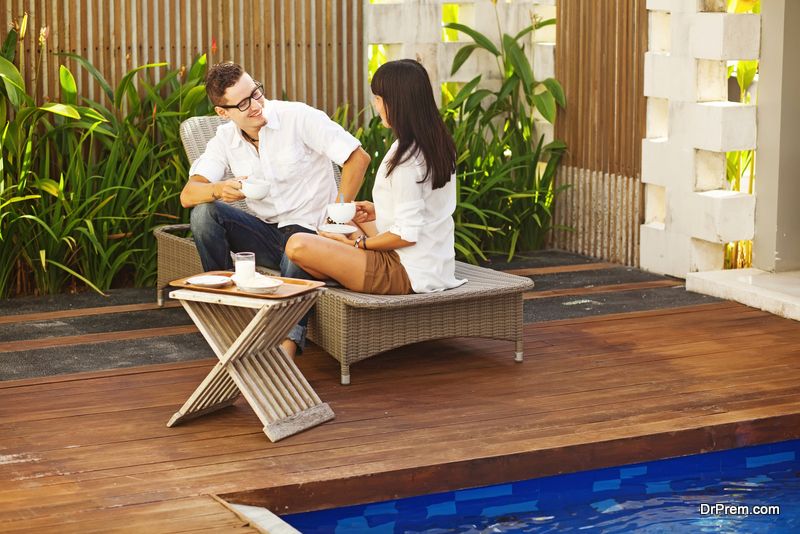 The purpose of having a set of furniture or garden table and chairs out there is to let you relax and have a good time. To make sure that this happens, look for comfortable and easy to use furniture. Make sure your chairs and couches are neither too high nor too low.
Older folks may have a problem getting up from seats that are too low. Look for soft fabrics and sturdy material for the framework. You don't want to have dodgy dining sets and furniture which leaves you afraid every time you sit on it.
Blend it well:
You don't want your patio furniture to stand out like a sore thumb from the rest of your tables, chairs, and couches. Also, you wouldn't prefer it to stand apart from your lawn and its contents. So, choose a design and color for your outdoor furniture sets that blend well with the surroundings and, more or less, with the interior of your home as well. Ensure that your patio furniture does not look completely different from the rest of your home's interior.
Invest in dual pieces: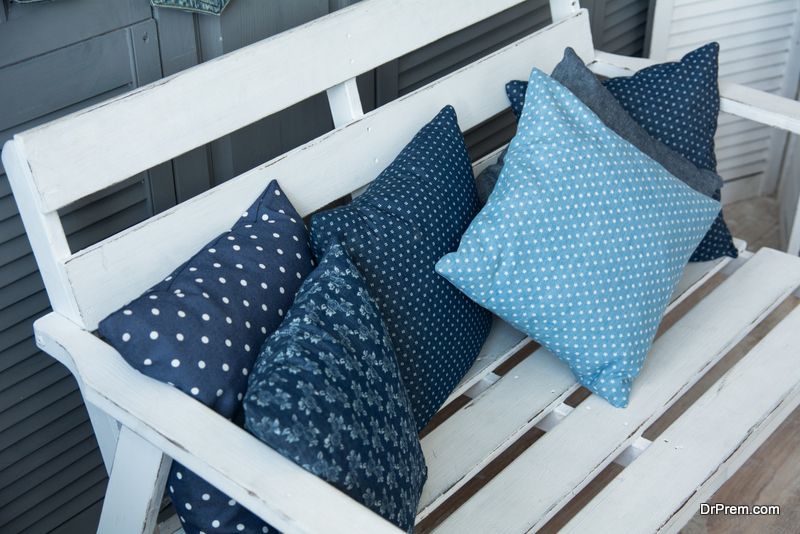 Go for benches that can double up as couches, or coffee tables that can convert into desks when needed. The underlying reason for this is to ensure that you gain the maximum advantage from your furniture in the least amount of space.
Also, your patio furniture will be subjected to plenty of harsh weather conditions and frequent movements and displacements. If your table, chair, or couch can be used as multiple options, you wouldn't need to invest in multiple pieces of furniture. It can also save you plenty of money in the long-run.
Look for easy maintenance:
This is one of the most important aspects that you should look for while investing in patio furniture. It must be easy to use and maintain all the while being strong and sturdy. Be it a couch or one of your dining sets having an umbrella, you must ensure that your patio furniture is easy to maintain.
Conclusion:
The above-mentioned points are not all when it comes to choosing patio furniture. There are plenty more other aspects also to look into. For example, you need not go over and beyond your budget just to ensure that you get hold of the best material. Another way of doing so is to seek customer reviews.
Ask people who have first-hand experience of owning such garden table and chairs, and they will be better able to guide you. All in all, with these basic pointers, you can rest assured that your outdoor-furniture-shopping-experience will be nothing more than a cakewalk.