All know the innumerable health benefits of fresh fruits and fruit juices. Fruits contain many vitamins and antioxidants that are necessary for maintaining good health. Looking for a container to keep colorful and healthy fruits, here are five most trendy fruit bowls that would make your fruits appear even more attractive.
The Ring:
"The Ring" is a unique fruit bowl made up of porcelain. Unlike regular fruit bowls kept on a table or placed on the kitchen unit, this amazing fruit bowl is hanged on the wall. The concept of the fruit bowl is simply artistic which presents a more enchanting way of preserving your fruits.
The Cocoon:
Designed by Mans Salomonsen, this is another unusual way of keeping your fruits. The cocoon is made especially for kitchen storage, which can be used to pot tiny plants and a few fruits altogether. It is multi-functional that you can use effectively for cultivation, decoration, and storage inside the kitchen and kitchen window. The shape of the bowl is very organic which can beautifully store fruits like bananas.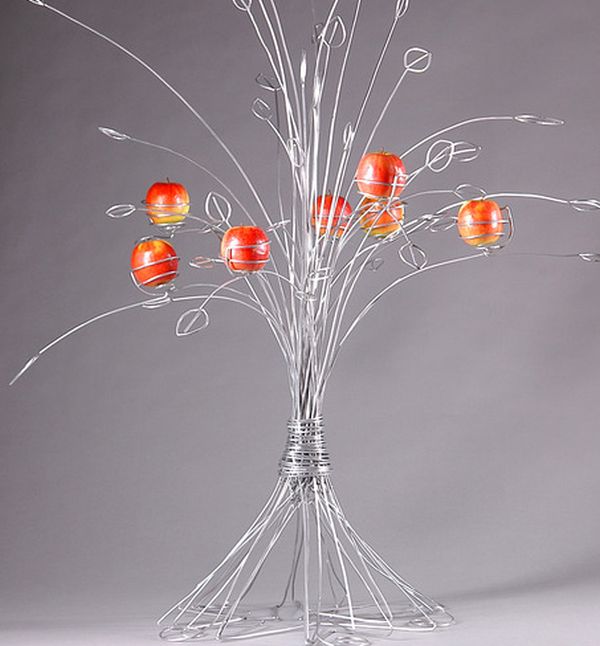 The Apple Tree:
Designed by designer Anne Lorenz, the Apple Tree is perhaps the most modern of all the fruit bowls we could ever have seen. The shape as mentioned is that of a tree wherein the fruits that are kept appear to be naturally growing. This gives the joy as if you are hand plucking the fruits. The tree is made out of aluminum wire and stands on the floor with a height of 120 cm.
The Andalusia Fruit Holder:
The design of this unique fruit bowl is a perfect blend of fineness and functionality along with modernism. The bowl comes in a rectangular design and is very strong and sturdy to hold bunches of fruits with the two hooks provided with the holder. The holder is large enough to hold many fruits without stacking them.
Fruit and Veggie Hammock:
This fruit bowl is simply attractive where the fruits remain suspended and stay fresh for much longer. The stand is provided with a soft, open weave and fully suspended net that gives a gentle yet strong support to the fruits without damaging there softer parts. An eye catching wooden stand that gives it a very beautiful visual appearance holds the net.
Summary
Looking for trendy fruit bowls, these stylish and chic fruit bowls will add to the beauty of your place and keep your fruits fresh for long.