It is ideal to bring an aquarium to your home, as it brings with itself tremendous positivity and good luck. It is a proven fact that watching fish moving in the aquarium reduces the stress level of a person, brings blood pressure in control, and makes a person happy. Besides health benefits, aquariums are beautiful pieces that attract a lot of attention and add fun to the home decor. Click through to find out some beautiful aquariums that have unusual shapes and designs:
Small Fry – the tiny fish tank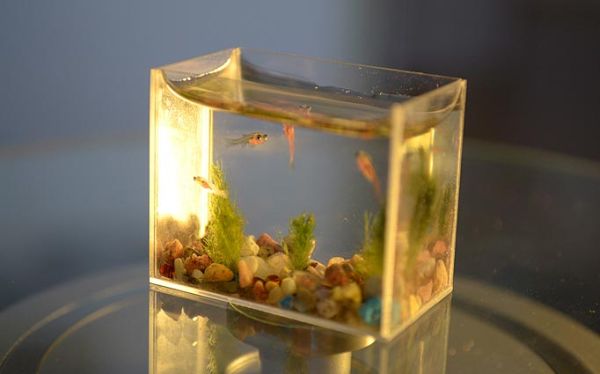 It is the smallest aquarium in the world, which fits in your palm and holds just two teaspoons of water. This is a miniature aquarium made of glass and is 24mm high, 14mm deep and 24mm wide. This tiny fish tank can only house two tiny zebra fish. The aquarium comes with two zebra fish, stones and miniature plants. Small fry is the creation of Russian artist Anatoly Konenko, who has an expertise in miniature designing. The water has to be put in this miniature aquarium with a syringe so that it does not disturb the fish tank's arrangement, and a small net is used to put the fish in the tank.
World Trip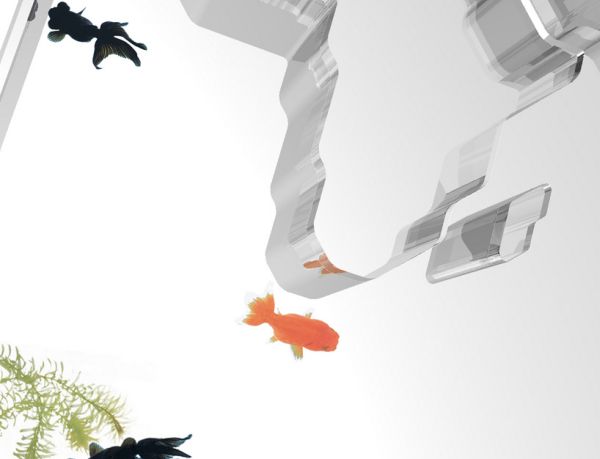 World Trip is a creation of designer Takuro Yamamoto from Japan. The structure is a glass goldfish basin that has the shape of a world map. Goldfish will take you to an adventurous trip worldwide, as they sail through the Cape of Good Hope, rest in Caribbean Sea, and pass through Sargasso Sea. Then the goldfish enter the Arctic region that reminds you of the extreme cold temperature. This remarkable creation is truly awe-inspiring.
Labyrinth Aquarium
Labyrinth aquarium comes in three colors, and is made of Lucite acrylic and powder coated aluminum legs. It comes with a filter, water pump, three auto lights, and silk plants. The tables are made of cherry, or carbon fiber, and the table conceals the lighting system and the filtration system. This aquarium is fit for the tropical freshwater fish.
Nike Shoe Aquarium
This is an unusual aquarium design that comes from Japan. Wieden+Kennedy transformed the Nike Air Max 360 running shoe into a goldfish aquarium. Although the space in the shoe is not enough for fish, the thought and the efforts that have gone into its making deserve a big round of applause and appreciation.
Summary
An aquarium is thought to bring positivity, good luck, prosperity, and a soothing effect into the home environment. Nowadays, we get a variety of aquariums that have unusual designs.