Thinking of doing that something extra to make your home décor stand out? Well, let's start with the room that most often than not, tends to get neglected to featuring the same old standard fittings and decorations; the bathroom. And let's start with one item that you would tend to use at regular intervals throughout the day; the sink. Accordingly, here are 5 really unique wash basin designs that would make your bathroom stand out for sure.
Spiral Washbasin
This design looks like a mystical fountain, taking inspiration from the fact that in ancient folklore, snakes used to guard the water resources. The stunning blue colored wash basin features a spiral loops upwards to reveal a water outlet. A foot pedal is used to operate the outlet although you can also opt for an auto sensor to activate the faucet automatically.
Red LED Washbasin
How about a washbasin that lights up automatically when you use it? The red LED wash basin would do just that. Featuring a stainless steel base which is surrounding by a bright red LED panel, the wash basin lights up the moment you open the tap, offering a unique glow to the entire bathroom.
Glass Bottom Washbasin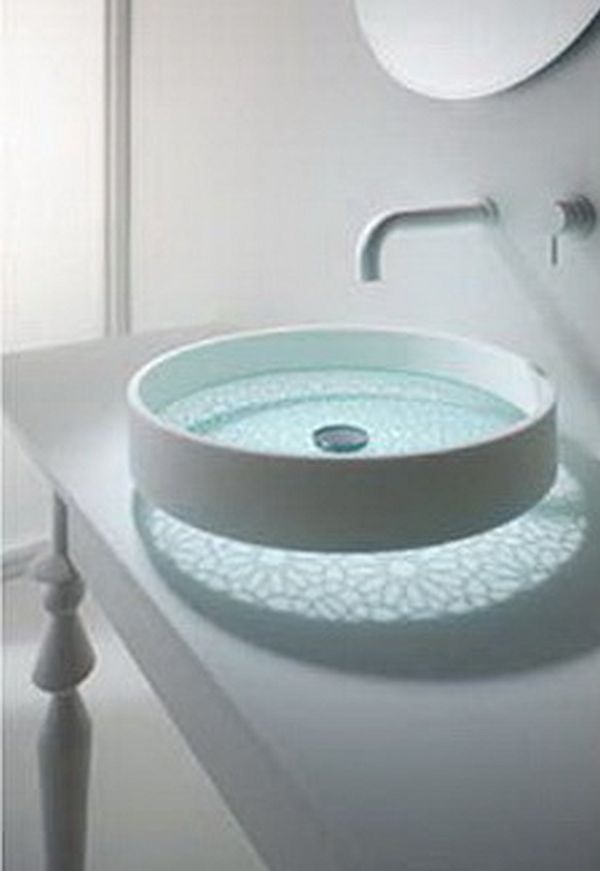 What we love about this glass bottom washbasin is how the base is curved, thereby giving the impression that the washbasin is levitating in air. The vivid patterns on the glass bottom also create beautiful patterns on the surface around the sink when filled with water.
Wave Washbasin
This washbasin looks just like a gentle wave and would look absolutely great in your bathroom. It features a pristine white surface that starts from beneath the tap and gently slopes downwards to reach the drain on the bathroom floor. Watching the water move down this gentle wave is a sight in itself!
RiverWashbasin
Here's another wash basin design that would look really great in your bathroom, provided you have the space to install it. Looking just like a meandering river, the washbasin features a wash area, with the drain located on the other side of the fixture. A narrow, curved pathway connects the drain and the wash area to give the effect of a flowing river whenever you open the tap.
Aquarium Washbasin
How about having an aquarium in your washbasin? This unique washbasin features a live aquarium fitted inside your sink. A water outlet allows you to clean the water inside the aquarium at regular intervals while the soap trays on both sides can be lifted to reveal feeding holes for the fishes.
A unique looking washbasin can transform the entire look of your bathroom within minutes. From spirals, curves and LED lights to rivers, glass bottoms and entire aquariums, the sky is the limit when it comes to choosing an unusual looking washbasin for your bathroom. So give it a try and make your bathroom stand out instantly.