While there is no dearth of individuals who spend a fortune in decorating their homes with the most modern appliances and gadgets, there are several of those who believe that home décor doesn't just end in the drawing room and bedrooms. Instead, these individuals take their home décor a step further by upgrading their humble toilets with something that is completely out of the box. Understanding these unique requirements of some affluent individuals, designers have tried to reinvent conventional toilet designs by including everything from gold to an aquarium with them. Here are some of the most unconventional, but relatively lavish toilets that can give your washroom an altogether different look.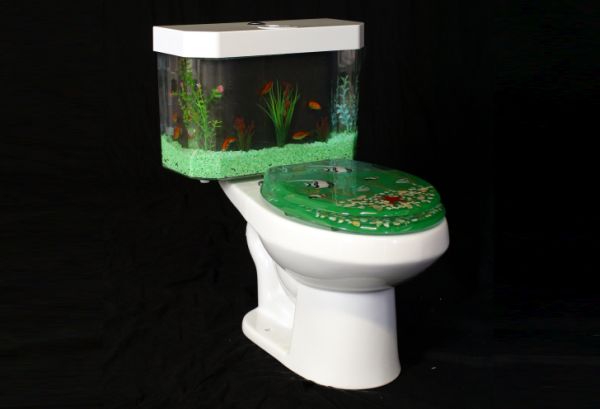 The fish and flush Toilet
This toilet design consists of an aquarium designed as flush tank. The fish and flush toilet parts are made of high quality materials that are chosen according to the needs of this unique design. It uses very low voltage and hence, saves your electric bills from getting high. The tank can hold up to 2.2 gallons of water and is safe for children as it has two-filter system.
Musical Toilet
For music lovers, who wish to have music even in their toilet, here comes a unique toilet with an MP3 player. This toilet has a SD card slot with a control panel attached to the wall. The SD card contains 16 classic tunes by default and can randomly playback. It conserves power by learning the time when you're most likely to do your business.
UFO Toilet
A creative invention, also known as waterless toilet, provides full functioning with hygienic conditions. This toilet container is designed in the shape of an UFO and sterilizes all the bacteria without any use of toxic chemicals or water. It is portable and compact and does not require any running water connection.
Space station Toilet 
It was built by Russia especially for use in space and was launched into space in November 2008. It is the most expensive toilet ever built with various features. It consists of leg braces to keep the person in place in a zero gravity environment and has special fans installed to throw out the waste into the septic system.
Toto Neorest 600
The Toto Neorest 600 is one of the cleanest toilets designed by the popular brand. The main features of this toilet are its odorless and tankless operation and the ability to reduce water consumption considerably. The seat cover of the toilet is designed to lift up automatically, thereby adding to its hygienic operation.
Summary:
The toilet is perhaps the most underrated part of our homes and hence, not many homeowners want to create a lavish atmosphere in it. However, here are a few unconventional toilet designs for those with deep pockets and the complete knowledge about their importance.