In the past, chairs were none less than a symbol of dignity, but now, they serve as an ordinary piece of furniture to which no one pays attention. Today, many furniture brands are coming up with fresh furniture designs to show the world the actual meaning of comfort, style, and luxury. If you want to change the old furniture of your room and desire for some fresh designs of chairs to match up with your style and comfort, here are some of the masterpieces with amazing designs, which you can check and choose for your home:
Rocking Sofa No.7500
Conceived and created by August Thonet, the Rocking Sofa No. 7500 tends to bring a simple furniture design into the realms of reality. Designer August Thonet, who also happens to be the son of the company's founder, created many furniture models. The Thonet combined the idea of adjustable back with an elegantly bent supporting surface for the legs to give it a more adjustable form. The adjustable chaise longue comes with a twisted (twice) surface and still considered innovative. It is a unique example of how the piece of furniture can be transformed into a decorative form.
No.670 Sitzmaschine
The easy chair with adjustable back was created in the seventeenth century. In this chair, the focus was given to elementary parts. The movement of art and craft inspired Josef Hoffmann and his group to produce bentwood furniture with more appealing designs. Accordingly, they utilized this design inspiration to provide a mechanical looks to this easy reclining chair.
Chaise Longue39
Designed by Alvar Aalto, Chaise Longue39 is an easy chair that combines several aspects in a single furniture piece. To provide relaxation, the Chaise Longue employs the "S" feature; its cantilevered form introduces the spring principle of tubular steel furniture in wood construction. Even though the metal used in the furniture may appear cold and uninviting to someone; then again, one would appreciate the woodwork done to make it appealing.
Zig-Zag
Zig-Zag is a model of a chair first designed by Mart Stam, which is now known as Gerrit Rietveld's "Zig-Zag". With intent to introduce a variation in the design of chair, the designer developed a chair without back legs. The shape of the chair consisted of a base and a curved surface bent twice to include relaxing support for back. Zig-Zag chairs are today produced by the Cassina Company which has purchased all rights to manufacture the furniture designs of Rietveld's. The Zig-Zag was used together with a table in many interior versions as a Zig-Zag children's chair.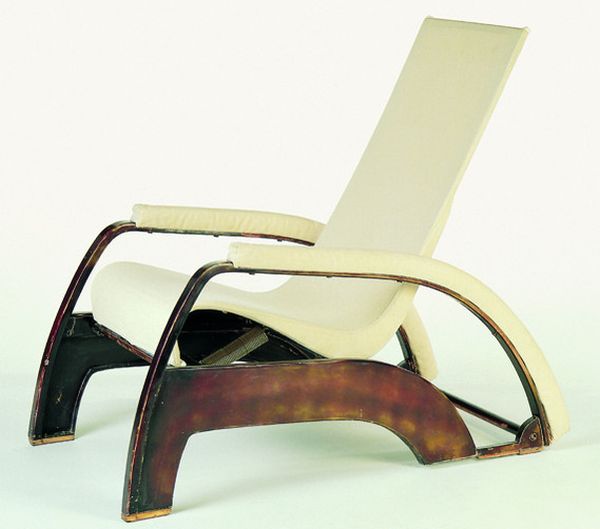 Grand Repos
Designed by Jean Prouve, who was an architect and designer, the Grand Repos was one of his earliest designs shown to public in 1930 in Paris at his first exhibition. Traditionally, in chaise longue, the back can be easily adjusted separately from the seat. Welded to the sides sections, the armrests of Grand Repos provide support to push backwards or forward. Further, two steel springs attached under the seat offer the required support.
Summary:
The designers have created various designs of furniture to offer style and comfort to people. Currently, one would find several of those original pieces of chairs in museums, which are open for exhibition.