You may have seen several architectural designs that are highly innovative and unique. However, you generally get to see the same boring looks of hotels with designs similar to each other. Here, we have tried to bring you some very special and creative design concepts for hotel buildings that will impress you with their beauty and style. Check out the top-five hotel concept designs to give a treat to your eyes.
HIVE-INN
It is a mobile hotel concept that has been introduced by OVA Studio. Have you ever imagined a hotel coming to you instead of you going to the hotel for a stay? This concept hotel can definitely come to you, as it has units made of Lego pieces and can be easily moved from one place to another. Featuring mobile units, the flexible hotel can be organized and unorganized very easily according to the needs and likings of the guests. In fact, this special design is like a stack of colorful furnished containers that look amazing. These containers not only accommodate guests, but also make space available for advertising purposes. While the basic structure is made of steel, it can be disassembled by taking out each container at a time. Thus, it is a wonderful solution if it could see the light of the day in the future.
Water Discus Hotel
This concept hotel at the Great Barrier Reef has been designed by a European firm called Deep Ocean Technology. The hotel's beauty is overwhelming because of its spectacular grand design. You can get impressive under and above water views. The design of this hotel building has two main discs that are situated above and under water. This disc structure is supported by a five-legged structure. Both discs are connected with a lift by a vertical shaft to carry people from one disc to another. This concept is a marvelous example of out-of-the-box engineering.
Zwembalkons Hotel Concept
Architect James Law has designed this concept with an Indian firm called Wadhwa Group. The Dutch word "Zwembalkons" means "Swim Balcony" and this concept really justifies this name. At places where there should be balconies, there are swimming pools with a glass boundary. Does it not sound interesting and adventurous? With 37 stories, this hotel features a sauna, three car-parking levels, and 200 apartment rooms.
Aeroscraft
Worldwide Aeros Corporation has planned a flying concept hotel for 200 people. This hotel will hang up in the air with about 14 million cubic feet of helium and will travel at a speed of around 174 miles per hour. With all luxurious amenities, does this sound like reality in near future? Well, we will wait to see that.
The Diamond Ring Hotel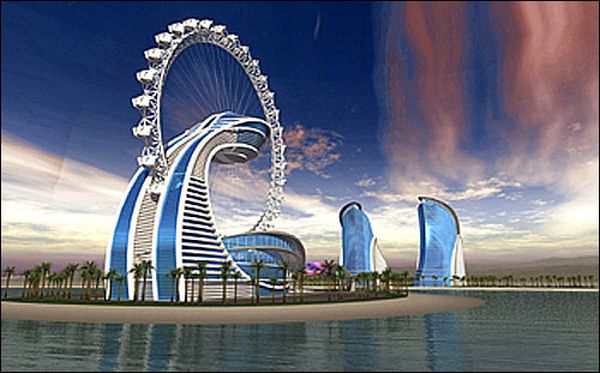 This concept hotel is shaped like a diamond ring that will be created by installing a 185-meter Ferris wheel. This future hotel is also given the name Voyager V1.
Summary:
Many architectural firms are now turning their focus on designing innovative hotels that would be simply one of their kinds. However, it will be interesting to see how many concepts turn real.