With an objective to provide illumination to rural Indian families, Prakash energy-producing lantern has been designed as a semester-long project. It is shaped like a traditional lantern, but is able to generate more power without the need of any fuel such as kerosene. It has been proved that kerosene produces fumes that are harmful for human eyes, therefore Prakash lantern seems like an effective alternative.
Aim
The main aim behind this project is to provide convenient lighting solution to people living in rural regions with minimum to zero power supply. Prakash means 'light,' and this portable fixture is literally able to bring light into the lives of people living in underprivileged conditions.
Design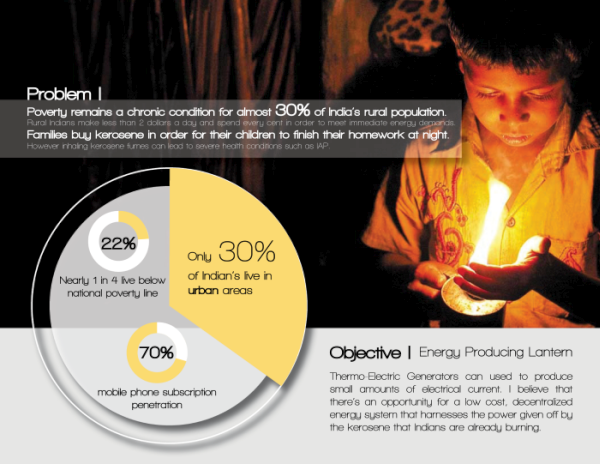 Thermo-electric generators are used within the lanterns to produce small amount of electric current that can later generate power for illumination at very low cost. The built-in thermo-generator is able to produce heat that's further converted into electricity to light up a room. It doesn't require additional or external energy source for functioning. The lantern boasts a typical design that features heat sink, air intake ports, height adjustment knob and easy-to-carry handle. A USB port is also available to help you charge your other electronic gadgets.

Testing
Taking its cue from thermoelectric generators, the portable energy-producing lamp has been designed by companies like Biolite and Tellurex. Together the companies have collaborated to create a working prototype that will be further tested in many regions in India by specific groups. In case the model is able to successfully provide sufficient illumination, while charging your smartphones and other electronic devices – then the prototype will get into production phase for more units.
Affordable lighting solutions like Prakash are offering rural regions in India as well as other countries a solution to eliminate darkness with an energy-efficient way.
Source : Coroflot.Com