Bringing style and enhancement to your regular drive with its classic look and supporting connectivity to your personal computer, Omata has engineered the world's first GPS analog Speedometer. While the speedometer looks neat and classic by design, it displays what is necessary and also supports GPS connectivity. This helps riders to record their activity data and plan their rides according to their training schedules.
History

Founded by Rhys and Julian with the vision of designing products that demanded less of our attention but immense functionality, Omata One has released its prototypes. However, the prototypes will soon be starting the shipping process.
Bike or Bicycle, Omata supports both

Riders of bikes can add the Omata speedometer to their bikes without hindering the fun of riding or the looks of the bike. If anything at all,this gear only adds more style by its classic and premium design.
Omata One also supports bicycles and efficiently displays their Speed/ distance covered, and also the ascent and time in a analog fashion. This analog display is easier to read when in motion. GPS facilitates connectivity to their personal computers by USB- C to Strava or any other application, where all the data is backed up regularly.
Features increasing efficiency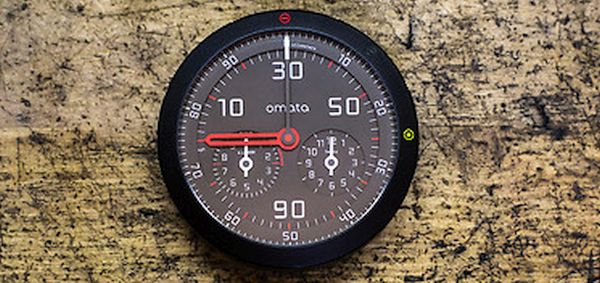 The OmataOne comes with a battery life of 24 hours to withstand longer riding hours and longer recording times. For immaculate function it is designed to be resistant to dust, water and other outdoor environments. Seiko precision converts your data entries into analog movements for better analysis.
Built from the best

Driven by high performance, Omata one is made from Plancast Plus 5083 Aluminium case and front. For the functional bezel, the designers chose Polyether Ether Ketone (PEEK), a plastic material with the mechanical and physical properties that enhance its durability without interfering with the GPS.
Colors and types

The Omata One has been launched on Kickstarter and is offered currently in two color options- white and gray. Speed options for both Kph and mph are available.
Source : Dexigner.Com