While there is no shortage of bookshelves to fix all your clutter, there are very few that could blend perfectly into a modern interior. There's no doubt that minimal modular shelving units are also available on the market, but selecting a perfectly sleek and aesthetic shelf is not an easy task. To relive you with all the online or in-store browsing, we're here to present you one of the most stylish and functional pieces of wall-mounted bookshelf, called Link. It is simple to look at, easy to assemble and much easier to sort out all your clutter that always lies pied up on a table, a couch or a bed.
Design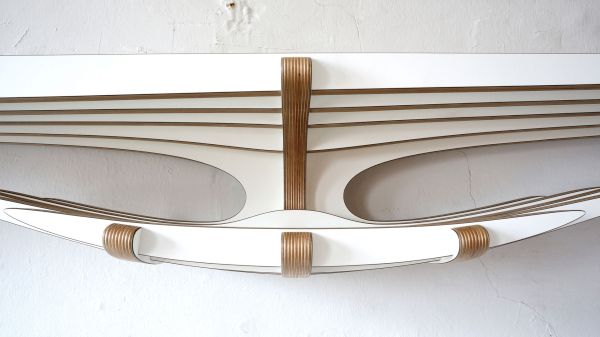 Link is a minimalist yet eye-catching wall-mounted shelving units that are designed to blend into any contemporary home interior. Consisting of two interconnected poles, one side of each shelf is round whereas the other side is pointy that it almost looks like a wooden sword. The shelving unit consists of 14 sub-elements that are assembled to form an elegant functional piece to store your books or place few home decor objects. The shelves are made from laminated veneer that's further oiled as well as waxed to add smoothing and shining finish to the final product. To easily mount the shelves on any wall of your home, the unit comes with stylish brass rails, which give contrasting touch to the whole shelving.
Function
Each piece of the shelving has a proportional relationship with each other, which further allows the different elements to join together. When fully assembled, it forms an amazing object-collecting piece of art that will surely highlight a specific part of your living room, study or any other room. Measuring 29cm in Height, 27cm in Width and 239 cm in Length, Link is a compact shelving that's suitable for any limited space apartment.
Source : Peterqvist.Com