Ceiling fans apart from being functional also add beauty to modern home interiors. Available in different sizes and designs, contemporary ceiling fans add class to any room and make it look attractive. In addition, ceiling fans consume far less energy in comparison to coolers or air conditioning units. Here Expert partners along with Dr Prem Jagyasi listed some of the trendiest and attractive ceilings fans to help you choose the right one for your home.
Unique blade fan
Designed by a university student, this award winning ribbon fan not just looks unique to enhance the beauty of your house but also cools the indoor air to allow comfortable room environment. Featuring a creative, special design, this fan is more efficient than any other ceiling fan available in the market. The geometrical design of the fan spreads the air in a wider circumference and allows effective cooling. The positive feature of this fan is that it uses standard fixtures for installation.
Chandelier cum fan
Featuring unique design and color selection, this chandelier cum fan just becomes a perfect choice for modern homes. Minka Aire offers an opportunity to people to enhance the beauty off their house and add a classy vintage look to their homes with this amazing chandelier cum fan. Controlling the direction of the breeze, the chandelier cum fan circulates the air efficiently in any direction or volume. You can install it in your living or any other room, as it goes perfectly with any type of interior.
Sun-shaped glass fan
Sun is the symbol of power and positivity and installing such symbolic accessories in bedroom or living room can spread positive aura in your home. The glass wings of the fan make it look like an amazing showpiece and display the dignity and class. The glass fan is very easy to install and you can use cloth to clean it, as it do not require any special care.
Make your fan look extraordinary with 3D painting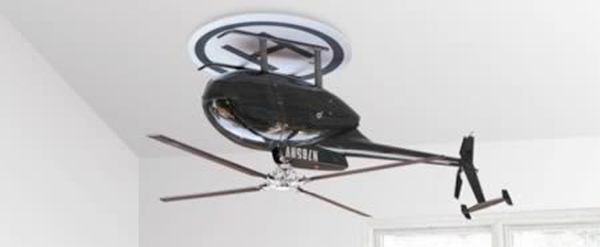 3D painting can enhance the overall beauty of your ceiling and thus house. You can go for 3D helicopter painting, as this will give an illusion of a miniature helicopter. The fan will seems like the propeller of the helicopter and will give an amazing touch to the room. Going for cartoons painted fans is a nice choice for kid's room.

Ceiling fan not just keep the room cool in summers but also enhance the beauty of your house and display your style. You can choose from an array of shapes and designs for your fan.