Is a master bathroom remodel on the horizon for you? Remodeling your bathroom not only makes for a better overall bathroom experience, but it also vastly increases the value of your home. An important choice when remodeling your master bath is the type of faucet you'll choose at your sink or sinks if you have his and her.
The purpose of this guide is to give you some bright ideas and show you the main master bathroom faucet ideas you have at your disposal. Whether you're completely new to faucets or have an understanding of what's on the market, you're bound to benefit from the options found below.
1. Spot-Resistant Finish
One of the more modern luxury features to seek out for your new master bath faucet is a spot-resistant finish. The advantage of choosing this type of faucet is that it won't show hard water stains, fingerprints, or spots from droplets of water drying on the faucet.
One of the top bathroom faucets for hard water is made by none other than Moen. The sleek brushed nickel spot-resist finish is the perfect fit for just about any bathroom remodel. Additionally, there are multiple models to choose from so be sure to review the entire collection.
After Moen, there are competing models by American Standard, Pfister, and Kohler. When choosing this type of faucet, it's best to stick with a brushed nickel finish since other finishes such as oil rubbed bronze show spots more easily. Overall, this type of faucet is perfect for homeowners with hard to mildly hard water.
2. Wall-Mounted Bathroom Sink Faucet
Next up is another type of faucet with a luxurious feel, a wall-mounted faucet. Depending on your design and sink, a wall-mounted faucet can really add some pizzazz to your bathroom remodel. One clear advantage of choosing a wall-mounted faucet is that you can choose just about any finish while avoiding spotting issues.
Oil rubbed bronze, antique brass, black, and chrome are all great options when shopping in this category. One disadvantage of choosing this type of faucet is that the installation isn't quite as straightforward, which may create the need to hire a professional. Make sure to consider the cost of installation should you choose a wall-mounted model.
3. Waterfall Faucet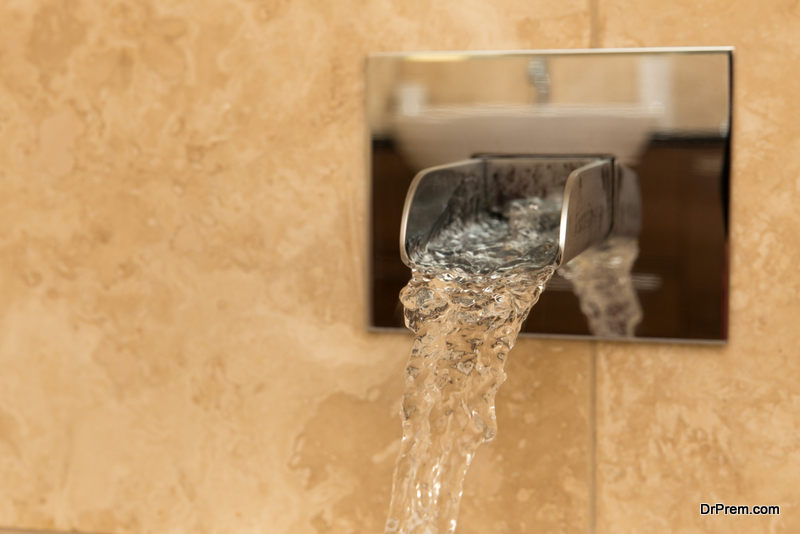 Almost no type of faucet is more visually appealing than a waterfall faucet. Particularly, if you choose a widespread model that requires a 3-hole installation. The main attraction of a waterfall faucet is the open top that allows you to see the water flow from the neck down through the spout.
When choosing a finish for this type of faucet, just about any finish is on the table to match your needs. Should you need a faucet for hard water, there are models available with spot defense. Lastly, in case you're worried about the faucet overflowing, there's a regulator in place that ensures the flow rate does not go beyond a certain point.
4. Single-Hole Touchless Faucet
If you're ready to step into the high-tech realm of faucets, then a touchless faucet could be the pick for you. The great things about a touchless faucet are the sheer convenience of using it, and the fact that it won't need to be cleaned too often.
Should you choose a single-hole model, there are a couple of drawbacks to consider. Firstly, depending on the model, the water is a single temperature but can be modified to your liking using the temperature mixer. The solution to this problem is to choose a model with a temperature control lever on the side of the faucet.
Secondly, most touchless faucet run on AA batteries, which means you will need to change out the batteries from time to time. The good news is that a single set of batteries can last for years depending on the quality of the batteries and how often you use the faucet.
All in all, say goodbye to wiping fingerprints off of your bathroom faucet and multi-hole installations when choosing a touchless faucet.
5. Vessel Sink Faucet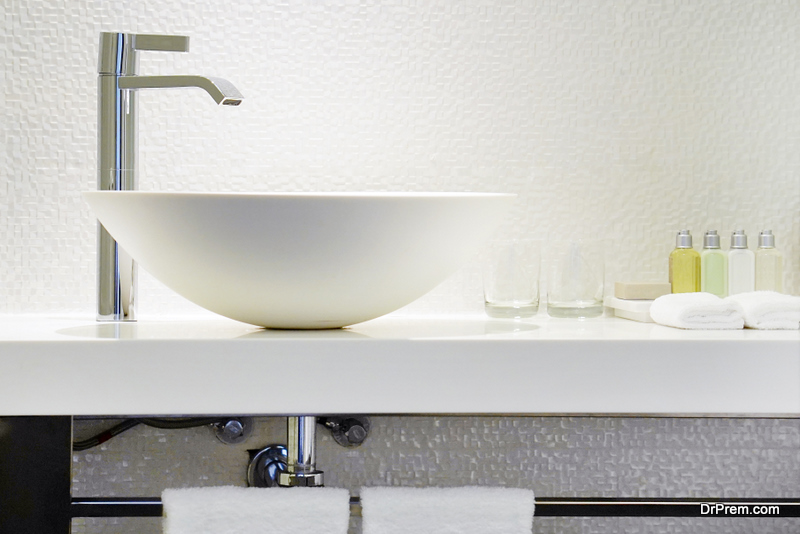 Comparatively, vessel sink faucets are taller and require a single-hole installation. Clearly, this is the luxury type of master bathroom faucet to choose if a vessel sink is a part of your remodel. One tantalizing option you have at your disposal is to choose a waterfall-style vessel sink faucet to get the best of both worlds.
There are plenty of option in this category from well-known brands, and you'll be able to track down your favorite finish rather easily. Plus, since vessel sinks do a good job of containing splashes, you won't have to worry too much about spotting. The key is to not shy away from using your imagination because there are plenty of attractive vessel sink faucets on the market.
Final Thoughts
If you arrived here today not knowing what type of faucet to choose, now you have all the master bathroom faucet ideas you need to get started with your design. If you're unsure about how each faucet functions and installs, consult your plumber to get a clearer explanation before making your final decision.
He or she will be able to show you in detail what options you have and the cost to install each type of faucet. Lastly, always be sure to consider the cost of replacing your sink if that's also going to be a part of your remodel.
Article Submitted By Community Writer