Bicycles are eco friendly transportation devices but they also face the problem of portability and parking. However, this problem could subside with the introduction of unique concepts like foldable bikes. All of them provide a safe and easy transport and the freedom from the shackles of limited parking spaces.
MORI folding bike
DesignerJanus Yuan took into consideration the fact that there is a dearth of female bike riders. To increase the female bike riders, the designer came up with this extra ordinary concept of MORI folding bike. To make it female friendly, the designer has given a small size and lower weight to MORI. The outer design makes use of a 3D printing technology and the buyers can design the battery case on their own as well. You can transform the bike into a scooter, trolley, or a simple folding pattern according to your need.
Sorena folding bike
Mahdi Momeni has come up with an astounding concept of a folding bike that you can easily fold when you are not riding it, and you can adjust the height and width of the bike to suit your height and your seating posture. You can ride up to a metro station or a bus stop, fold your bike, and carry along on your further journey.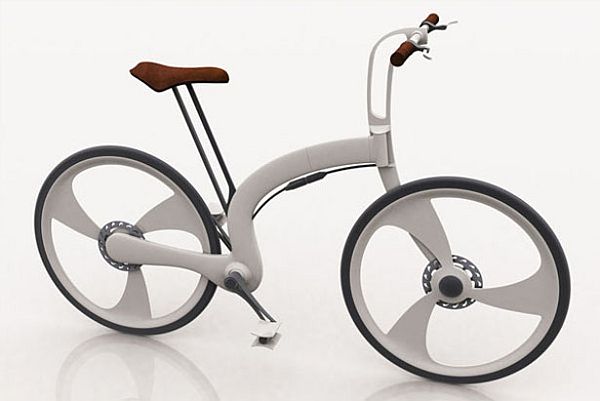 Folding bike concept by Kilo Estudio
Kilo Estudio has come up with a folding bike concept wherein the bike is made of aluminum and folds in the middle. There is no concept of chain in this design, as the transmission is incorporated in the structure. When it is folded, the steering works well as a handle that lets you pick it easily from one destination to another.
nCycle concept bike
nCycle is a smart, secure, and a foldable bike concept that is the idea of designers Marin Myftiu and Skyrill . It features a battery-powered electric motor, Bluetooth speakers, integrated headlights, and a holographic display atop the handlebars. The display shows the directions, speed, and some other information that comes in handy while riding this bike. Folding of nCycle is a three-step procedure that you can perform in little time and with utmost ease.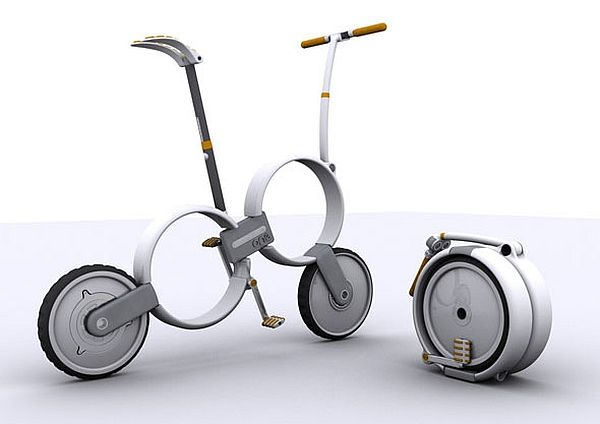 Foldable bicycle design with pedal assist tech – One
A brainchild of a British designer Thomas Owen, One is a portable bike concept that nicely folds to a round shape with an easy to carry handle. It is lightweight, easy to fold and unfold, and super easy to carry around.
Summary
Folding bike concepts are worthy of giving us a convenient, easy, and efficient transportation and freedom from scarce parking areas in urban settings.