Aquariums are an important step towards conservation education and animal care. Visit to an aquarium makes you feel connected with nature where you can see the fishes and other interesting and amazing creatures that thrive beneath the waves. Here is a list of five amazing and cool aquarium around the world.
iMac Aquariums:
The MacAquariums and iMacquariums were especially designed for the followers of Apple all over the world. Jake Harms converted old Apple computers into attractive aquariums that were made by fitting recycled iMac cases with fish tanks, bright lights and high quality filters to replace the screen. All you need to do is to decorate the Macquarium as per your choice and add water and fish and here they are all ready to be used.
Aquarium Bed:
This is one of the most lavishly designed headboards ever and very closely symbolizes the great Poseidon. The bed is created out of super quality materials and boasts an elaborate aquarium of capacity 650 gallon that encompasses various marine life forms. This is much more than the usual home aquariums that many people own.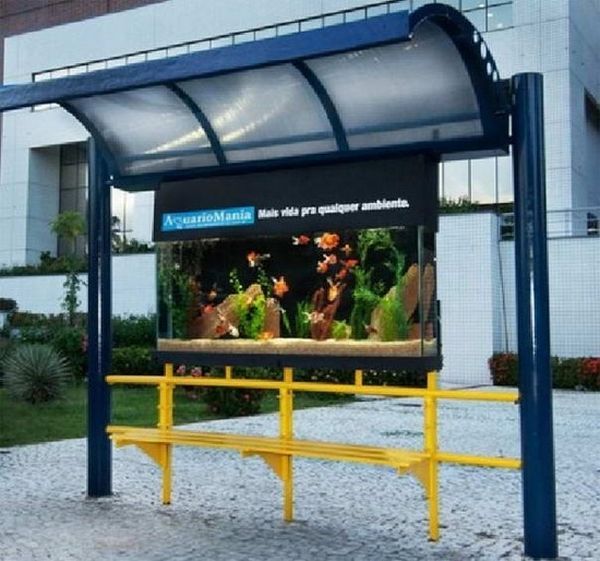 Bus Stop Aquarium:
You can now enjoy looking at fishes while waiting for your bus to come. The "AqurioMania" is the real bus top in Brazil where this idea has come true. The aquarium provides an entirely different look to public places but can be expensive.
Frozen Aquarium:
This is one f the chic aquariums and is situated at Kesennnuma Port in northern Japan. Various marine animals such as octopus, crab and other fish that form 450 marine specimens are frozen and displayed in big, clear 50 ice blocks. The room temperature of the aquarium is negative 20°C, which is extremely cold.
Pipeline Fish Tank:
This awesome idea goes to the credit of a fish and aquarium-loving person who designed this incredible fish tank inside his entire café. This is a good example of amazing creativity while the fishes move from one end to another and you can relax back and watch them moving. The connected pipelines allow the fishes to move from one aquarium to another.
Summary:
These aquariums are amazing masterpieces of incredible creativity and love towards the preservation of marine life. They are not only cool but are also very elaborate and of its kind places.