This article is purely for those who have a strong passion and desire to admire and appreciate art works. Here are five exclusive art inspired works displayed at the Coachella Valley Music and Arts Festival, a three-day festival organized every year at the Colorado Desert in California. All the enlisted works of art will truly leave you feeling amazed and surprised.
The Balloon Chain:
Ever wanted to witness the stars shining high in the sky closely, here at Coachella you would almost. Robert Bose and his associate created the wonderful balloon chain. The halogen gas filled balloons swing beautifully in the sky with the help of the wind. The balloons attached through balloon wranglers make them sway beautifully both during the day and at night as the wind flows.
Becoming Human:
Artist Christian Ristow displays his imagination through his fantastic robot inspired sculpture. Inspired by a character in The Story of Ferdinand where a bull is contrastingly very lovable and caring, Christian dedicates his work to his dear son. This amazing artwork is a perfect combination of technology and nature.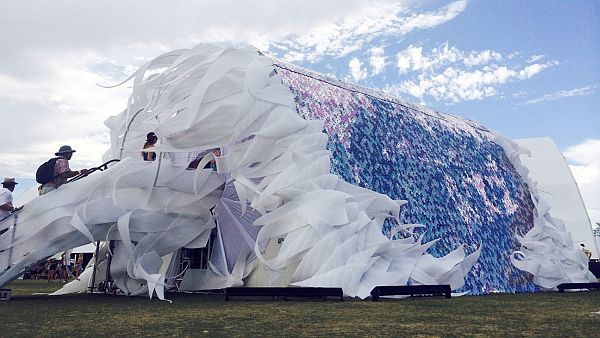 Cryochrome:
Cryochrome also known as "frozen colors" has been created by the artist James Peterson and is actually an ice age cave and a kaleidoscope blended inside a circular rotating portal, which provides a mesmerizing experience to the visitors. The shining surface of this exclusive crychrome engulfs a 30-foot long pathway, which illuminate beautifully.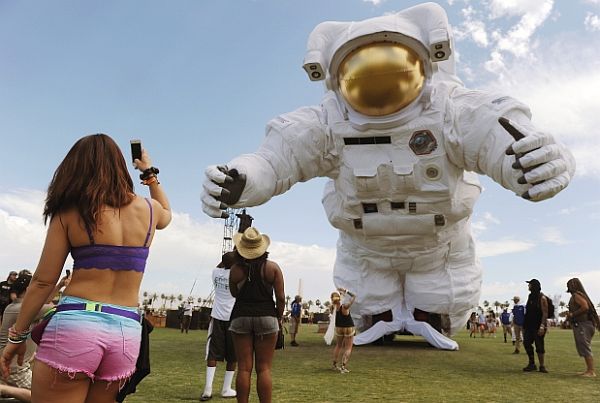 Escape Velocity:
Escape Velocity, designed by Poetics Kinetics, is perfect for those who want to experience what going in space feels like. It makes you feel like you are one of the tiny wonders lying out there in the cosmos. You can see the amazing artwork while roaming through the festival, connecting with the audience and attracting them towards itself and its wonderful world.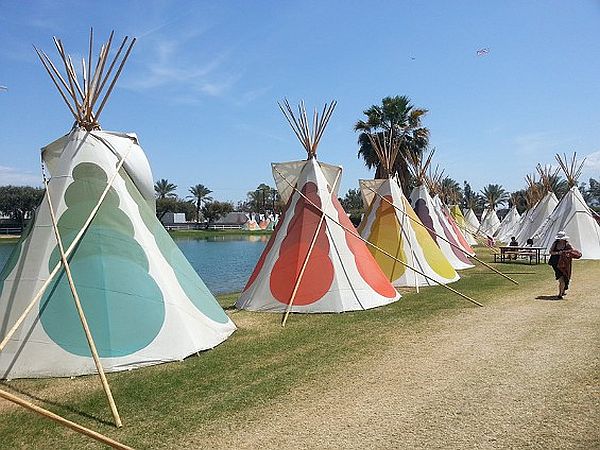 Intentcity:
Teale Hathway, who works as a media painter, worked on an architecture, memory and visual awareness and created astonishing paintings that are very similar to us. His incredible art, displayed at the Lake Eldorado Camping, contains 53 three-dimensional puzzle paintings that are present in an inverted form lying amidst the polo field and general camping. These homogenous structures simply entice the audience.
Summary:
From air kissing balloons rising high in the sky to an amazing inverted puzzle city, all the art creations at the Coachella Art and Music Festival are simply alluring and mind blowing.