In the present times, sleep is the most under-rated pleasure which we indulge in. While the current generation is more work- oriented and is always on the go,while sleeping is a basic necessity that your body craves for and requires, with the ever increasing anxiety levels it is not easily afforded by all. Eric Pascual Riu came up with the idea of creating a sleep inducer that does not create any medical side effects when compared to the pharmaceutical options that are available in this category.
Damo, the healthy way to sleep
This sleep inducer plays with sound and light, creating the perfect atmosphere for you to drift of to dreamland. To decrease stress and anxiety issues and make it easier for people who have sleeping difficulties to decrease their sleep deprivation in a healthy way, Damo creates a ambience that lets your brain slowly fall to sleep. To reclaim the much needed energy that your brain needs, you can customize the settings on Damo as per your own liking.
How it works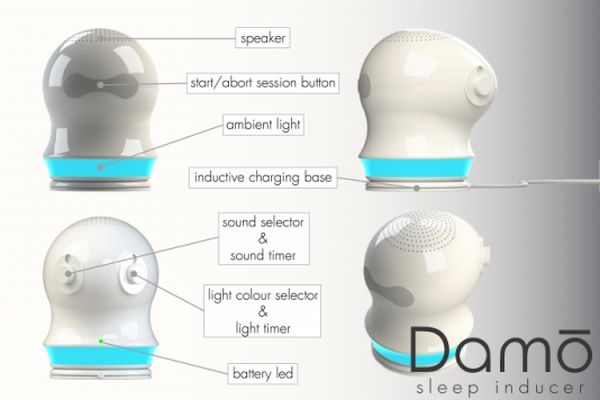 Damo plays sounds of various soothing types like rain, white noise, gentle breeze, ocean waves and more. These soothing sounds can be paired with the lighting choice of the people, these ambient lights can be selected between blue,green,amber,orange or purple. The user can choose the time configurations at which they would like the ambience to continue at. Now the magic starts as Damo slowly and gradually keeps decreasing the volume of the sound and also the intensity of the light. This calms your brain and slowly lets you fall off to sleep.
The story
Created as a project at his University, Eric Pascual Riu is currently seeking help form tech geeks and enthusiasts on social media to create the prototype and begin manufacturing of Damo.
Source : Jamesdysonaward.Org