If you think that your home interior looks somewhat dull and lack luster, it is time to use a desktop lamp and planter combo to enhance the beauty of your room. A lamp-planter combo is a great way to add smartness, style and an eye candy to your room. These lamp-planter combos not only provide greenery to your space, but also add several colors and lights to brighten up the interior. Here are some amazing desktop lamps cum planters that can boost the look and feel of any space.
Bamboo Desk Lamp
For people who believe in protecting the environment while decorating their homes in style, the bamboo desk lamp can be a cool choice. The unique lamp with a stand made using bamboo can attract the attention of your guests instantly. A vegetable strainer is recycled and reused as its shade. However, everything is done so beautifully that you may not even notice the use of waste stuff in this masterpiece. At the base of this lamp, a warm-shaded planter is affixed to bring nature to your room. Thus, the lamp keeps the base plant illuminated all the time. If you keep it in a dark corner, it will only add to its beauty.
Mökki Planter-Lamp
If you are interested in having a mini yard in your room itself, then nothing can be better than this Mökki planter and lamp. Designed by Caterina Moretti, the planter lamp features a soft light to set the mood. There is a mini landscape designed within the box and you can custom-create it with your own bonsai, plants, rocks and stuff. The entire unit looks marvelous as if it is a small playhouse resting on your workstation.
Green Lantern
This curvy, eco-friendly and horn-shaped lamp is made of liquid wood that shines bright and colorful. Designed by Romolo Stanco, the beautiful lamp planter comes with a hued LED. Featuring a planter at the end of the horn base, the Green Lantern presents unique color combos to perk up your interior. The best thing is that you can even customize it using an iPhone app.
Lightpot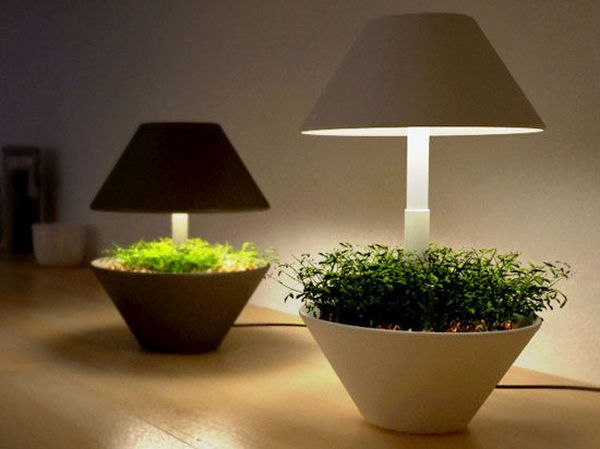 Designed by Studio Shulab, the Lightpot is a unique combination of a desk lamp and planter. The lamp includes a planter right at the center of the base. You can grow your selected herbs and plants in the pot. As your plants grow, this special planter adjusts to accommodate your growing plants.
Desktop planters with affixed lamps are great option to brighten up your living or study area. These amazing lamp-planters not only add colors and style, but also let you live close to the nature.