A good cutlery collection is a must have for an efficient kitchen. From knives to spoons and forks, all the cutlery items play an important role in making your work easy and hassle free. While making use of cutlery for myriad occasions, there's probably one purpose they have never been put to: that of wearables. If someone can think it, someone probably designed it. Take a look at these cutlery items that you could wear.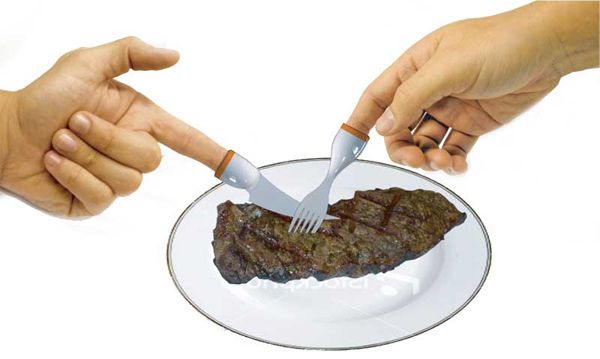 Fingers: This innovative range of cutlery has been designed by Italian designer Alberto Ghirardello. The unusual cutlery is composed of high grade and sturdy plastic material. The most happening part is that the unique finger-wear cutlery pieces provide an excellent grip and are very comfortable to use.
Fingerpickers: In this world of multi tasking where you have to perform various activities together, even your cutlery items need to be smart. To fulfill these demands, here we are with an amazing finger weapon shaped like a fork to allow you easy access to your favorite dishes even when your hands are pre-occupies with other items such as a plate or a glass. It is made from stainless steel and perfect for parties.
Fingers Cactus: This stylish and unique cutlery collection is the creativity of Playsettings. These creations are aimed at providing a fun and enjoyable eating experience and mainly to attract young boys and girls. These extremely fascinating cutlery items are available in an array of shapes and enable you to access your favorite food items in a number of ways.
Eat With Your Fingers: Eat with Your Fingers cutlery range has been created by the Spanish designer Key Portilla-Kawamura. It is a three-piece miniature cutlery set and needs to be placed at the fingertips to allow you to eat with the help of the fork and the spoons. Good enough to give you a hassle free eating time.
Tableware It: In this gadget friendly world where every work has been made easy and efficient by the use of various gadgets, it is only natural that tableware get a touch of the gadget revolution. The incredible cutlery pieces named Tableware It are a unique combination of your jewelry accessories and personal cutlery items that can be used wherever you want, thus enabling you to make use of your personalized tableware.
Summary
Cutlery and its designs are undergoing a change as technology changes are life, and makes more adaptations possible.