Looking for a remarkable piece of furniture for your living room? Have a look at this impressive Colosseum coffee table by USA-based designer David Bonty. What makes it stand out from the rest of the coffee tables is its unique shape in form of a miniature stadium. The square-shaped table features number of carved rings like bleachers in the center, making it appear like a mini stadium or arena. This beautiful handcrafted structure is not just a piece of furniture – it's likely to be a centerpiece.  Given the shape of a teardrop, it forms an elegant design structure to enhance any home interior.
Structure of the coffee table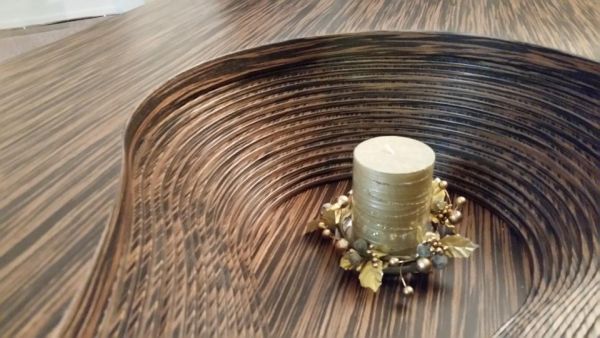 The Colosseum coffee table reminds us of the popular Colosseum amphitheater in Rome, Italy. One thing common about both the structures is the oval shaped design that forms the central part. The coffee table is handmade using dyed Makassar ebony veneer sheet. This sheet forms the top on both sides of ¾-inch MDF panel, whereas base is manufactured from Wenge PVC thermo foil on the same MDF panel, giving the appearance of a solid block.
The coffee table has nearly sixteen bleachers or steps in the center. To give a refined shape and characteristic look to the table, each central horizontal line is made with a new sheet of veneer. Finally, the charm of the Colosseoum coffee table increases with the finish of clear matte lacquer.
In addition, the center part features multicolored LED lights that illuminate the entire oval design. A clear glass top covers the open area thereby protecting the surface. Colosseum coffee table is one of the elegant and eye-catching tables we've seen so far. The fine artisanship, modern design and impressive glossy structure of this designer coffee table are truly commendable.
Source : WoodWorkingNetwork.Com