Shipping containers are very strong, durable, affordable, and lightweight, which make them a perfect choice to build homes. They may not be primary material to create home for many but they can contribute a lot to recycle old containers and create sustainable home. Here Dr Prem Jagyasi suggests some exciting houses made from old shipping containers.
PV14 container house
PV14 was one of the most interesting projects, as the builder has to build a house from shipping containers. Michel Gooden is the man behind this amazing house who converted 14 shipping containers into an amazing house. One of the most beautiful houses of the UK, the container house comes with all lavish facilities that any modern house should have.
It includes a swimming pool, a lawn, an open kitchen, terrace, and much more. The ceiling of the house was left open to give the house a unique look. The home also includes a 1400sq ft roof deck, a 40 ft swimming pool, and stunning three bedrooms.
Weekend house made from 31 shipping containers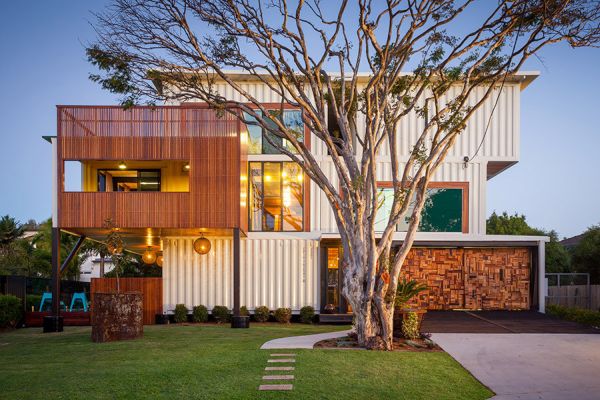 Bold combination and bright interior makes this house a great choice to make in Australia. Builder Todd Miller has converted 31 shipping containers into an amazing and desirable house. Located in Graceville, about eight km from the Brisbane, Queensland, it can be one of the finest places to hang out with your family and friends.
The jaw dropping design and the architecture makes the house a great property to have or visit in Brisbane. The unique design and facilities make it a perfect weekend home.
Dream house
Located in San Jose, Costa Rica, this is really a dream house made by architect Benjamin Garcia Saxe from shipping containers. Made from a couple of large shipping containers, this cozy 1000 sq ft home costs around $40,000. Glass doors, windows, and unique ceiling design will not give you any chance to recognize this home as a shipping container. This home comes with bedrooms, bathing areas, kitchen, and much more that you expect in a modern house.
Six shipping container home
Located in Flagstaff, Arizona, this is one of the most attractive shipping container homes in the region. The beautiful stacked six huge shipping containers make it a cozy place to spend a grand weekend. This home features concrete floor, glass windows, industrial finishes, and more.
Shipping container can be great choice to construct homes as they are strong, durable, and lightweight, which makes them a great choice for building small homes. You can also choose colored shipping contains to build your dream home.