You probably might have not given so much of a thought on a bike rack at least I had not. I was amazed to see these bike racks. These bike racks will take minimum space to mount your bike and also compliment the aesthetics of your interiors.
Basic bike rack
As the name suggests this is a minimal design for a bike rack. Looks like a single flat ski with a hook to hang the bike. The best part is that it looks cool with or without the bike. It is available in black walnut or white maple wood and the hook is powder coated steel. The designers of the rack Artifox, thought of bringing out the bike inside the home or office.
Original bike rack
This one is a creative piece, serving two purposes. For sure, it is bike rack, also it is a shelf too. You can keep an artifact, books, keys or just about anything that you like, on top of the rack or the shelf. You can call it either or both. The rack cum shelf is a solid block of wood usually walnut or ash wood. The piece holds the bike in its "mouth," graciously.
Wooden bike hooks
Two wooden sticks crafted from oak wood form the minimal wooden bike hooks. This is an easy DIY project, which could be installed in minutes. These two neatly carved cylindrical sticks are fixed parallel at a distance from each other. You can choose the height of the hooks as per your liking and hang your bike with ease on them. These hooks can accommodate an umbrella or an overcoat too.
Bedford Ave bike rack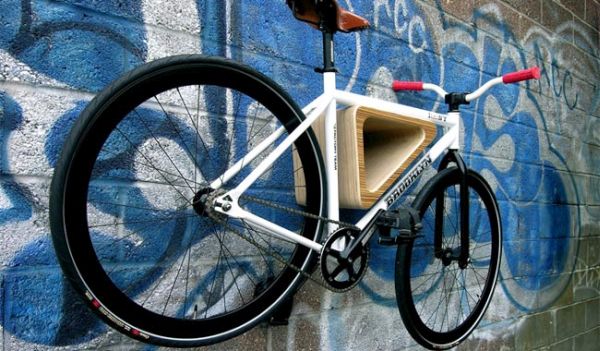 The shape of this rack would remind you of an instrument that you might have used in school for geometry assignments. When the bike is not mounted, the rack would enhance the aesthetics of the room it is mounted in. To suit your needs it is available in different colors. You also have the liberty to get it customized, specify the ply or veneer you would like on it. If you plan to keep your bike somewhere else, the rack will serve the purpose of a designer shelf.
Red horse bike rack
This red horse bike rack cuts the monotony of the usual pole that we chain our bikes to. The design of the rack is appealing and would attract attention, with or without the bike. The rack can be fixed in soil or placed on a tiled/stoned surface.
These interesting bike racks will make you shift your bike inside your apartment. If space to mount the bike was an issue, consider it resolved.