You may like to spend maximum time outdoors under the clear blue sky with all comforts but with insects, pests and temperature issues it remains merely a thought. Designer Pierre Stephane Dumas has created a giant transparent bubble equivalent to a room that allows people to sleep in the most comfortable atmosphere ensuring safety and perfect view of the nature.
Resembles a mobile hotel room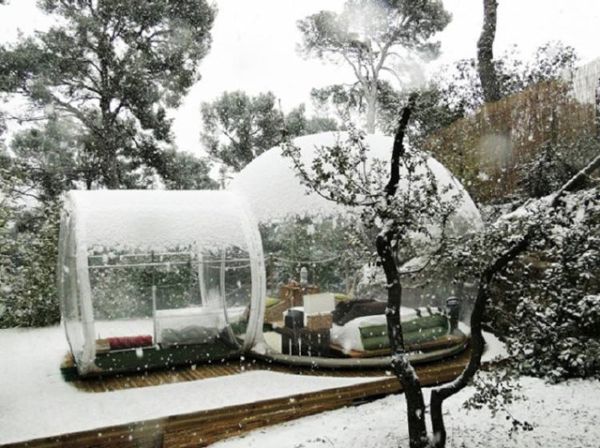 The inflated bubble is well equipped with shelves, lights, wardrobe, table, chairs and beddings that give it the appearance of a mobile hotel room than a simple tent. This giant bubble made from PVC has two-fold and four-fold stitching to make things hold together. Moreover, a blower present in the bubble tent keeps it inflated and recycles the air from time to time. You can buy the transparent bubble for the weekend camping trip at different rates depending upon the size and enjoy the natural environment with controlled heating without causing any harm to the area. If you do not intend buying the giant bubble, you can even hire it by paying requisite amount per night. The bubble tent can accommodate two adults easily and it is up to you whether you want a fully or partially transparent bubble.
Unusual experience under the stars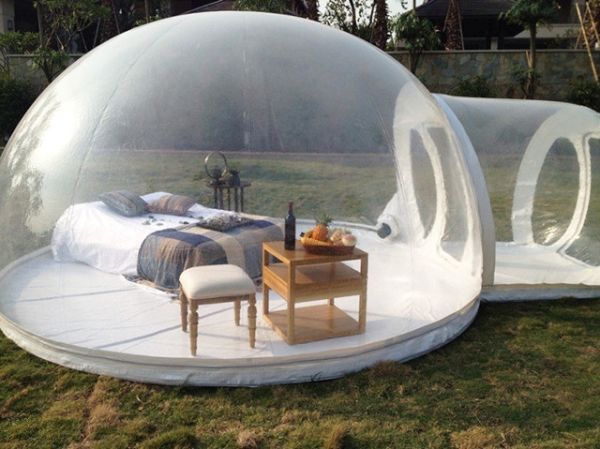 Simply by placing the giant clear bubble on a flat rigid surface, you can enjoy the scenic beauty outdoors while sipping a cup of tea in the room-sized bubble. The electric shelter enables you to take unusual experiences beneath the stars. Normally people miss out the beauty of nature- the rising and setting sun, the stars and the moon. This transparent bubble will provide a wonderful view of the atmosphere with full safety provisions.
The transparent bubble looks similar to a giant goldfish bowl that aims at bringing people close to nature and provides a panoramic view to the campers.
Source : Ohgizmo.Com